Once you have created a schedule, it's time to create a session!
---
You can create a new Session in one of three ways:
1) Click the Create Session button at the top right corner of the screen to open the Session Editor. At the top of the editor, you can select its Schedule assignment category.
2) Click the three dots next to your desired schedule in the left margin and select Create Session. This will automatically categorize the new session under that schedule.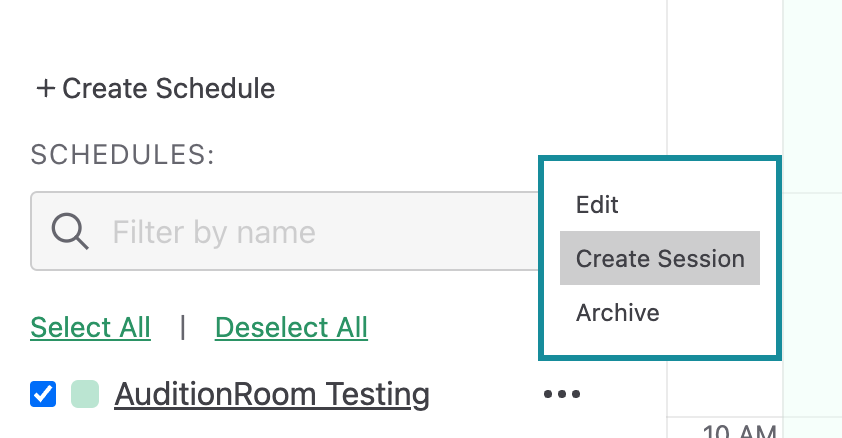 3) Click and drag your mouse over a date and timeframe in the weekly view. This will create a new Session with that Date and Time already filled.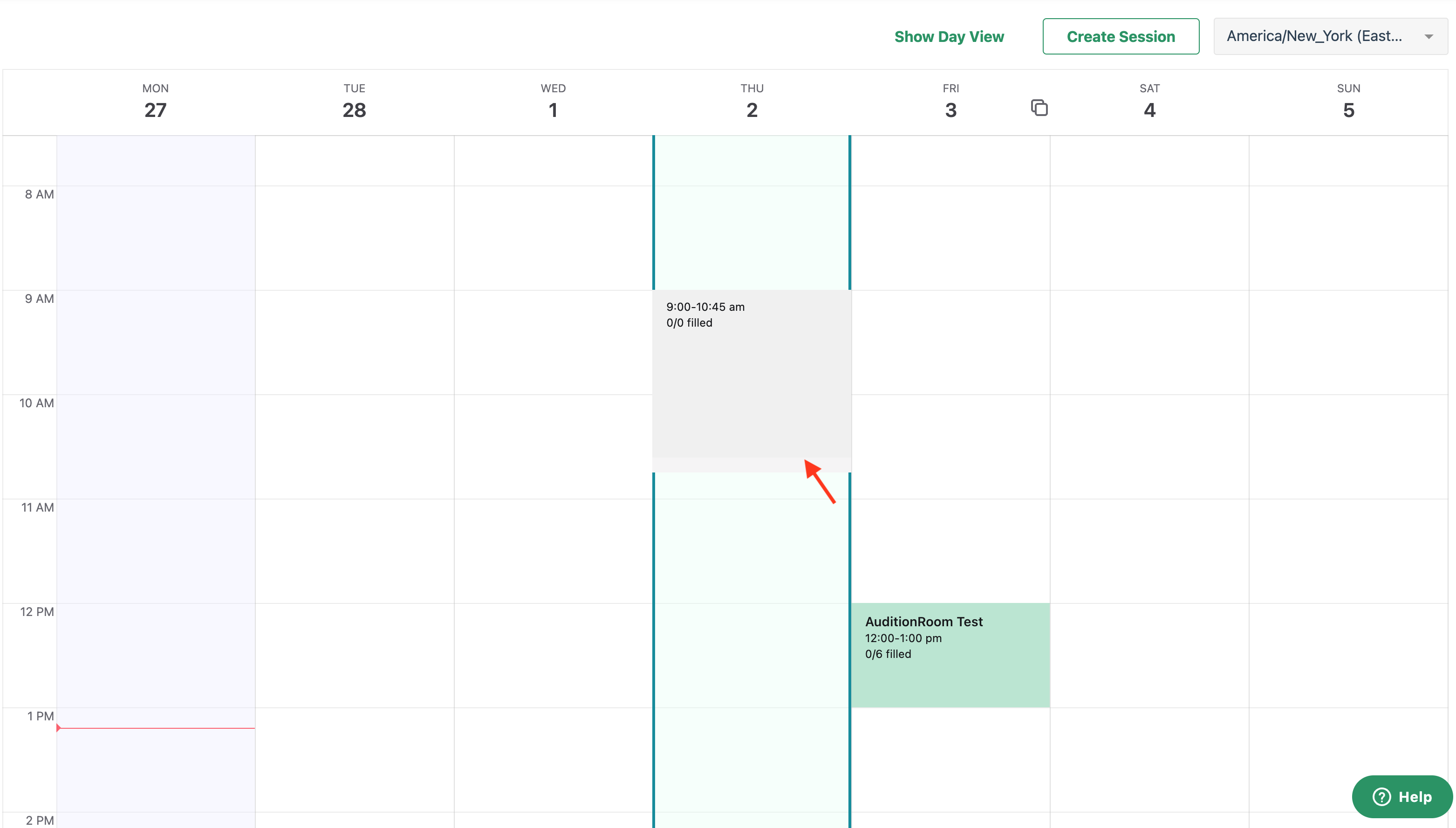 When created, it will open the following Session Editor window: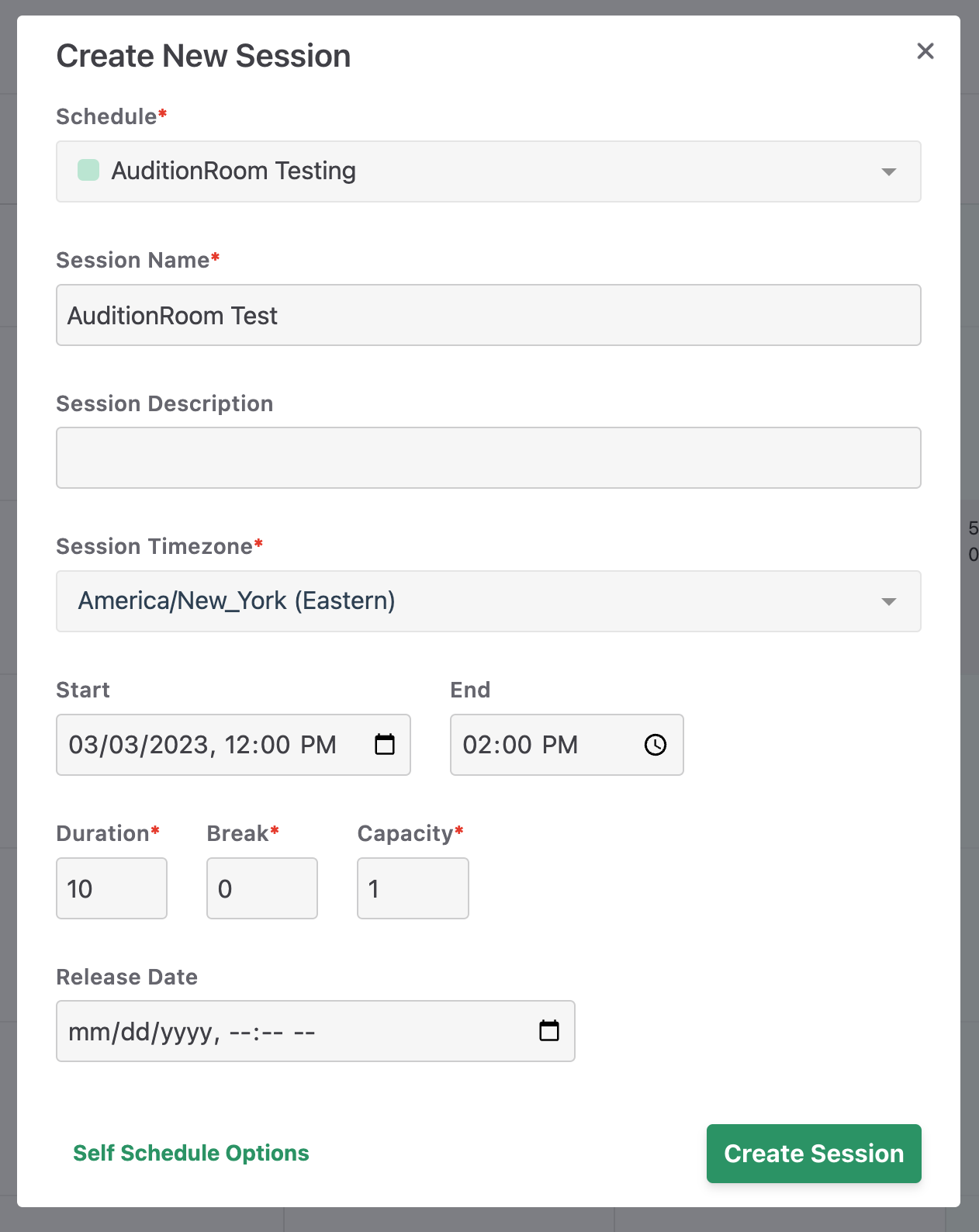 Schedule: Select the Schedule this session belongs to
Session Name: Name your Session (keep your Session names unique so you can track them later)
Session Description: Any specific details applicants should know when selecting the Session
Session Timezone: Timezone where the Session will take place
Session Start Date/Time: Select the date and time the Session will start. The start time should reflect the beginning of the first audition/interview slot (i.e. 3/10/2023, 9:00 AM).
Session End Date/Time: Select the date and time the Session will end. The end time should reflect when the last audition/interview slot ends (i.e. 3/10/2023, 5:00 PM).
Duration: The duration of each individual timeslot in minutes. For block auditions in AuditionRoom, set the duration to the total length of the Session in minutes (i.e. 3 hour block audition = 180 minutes).
Break: The length of break time between each audition/interview in minutes. For no breaks in between timeslots, set this to zero (0). Meal break periods can be entered by marking timeslots unavailable after the Session has been created.
Capacity: The number of applicants that you will see per timeslot. For one person auditions/interviews, this number should be set to one (1). For block auditions, set this number to the total applicants you can take for each audition/interview timeslot. For block auditions in AuditionRoom, set this number to the total applicants you can take for the entire session.
Release Schedule Date: Scheduled and invited applicants will not be able to view the schedule until this date. This is optional.
These are all the fields required to create a session! There are some additional fields you should complete if applicants will be choosing their own timeslots. If this is the case, click Self Schedule Options to display the additional fields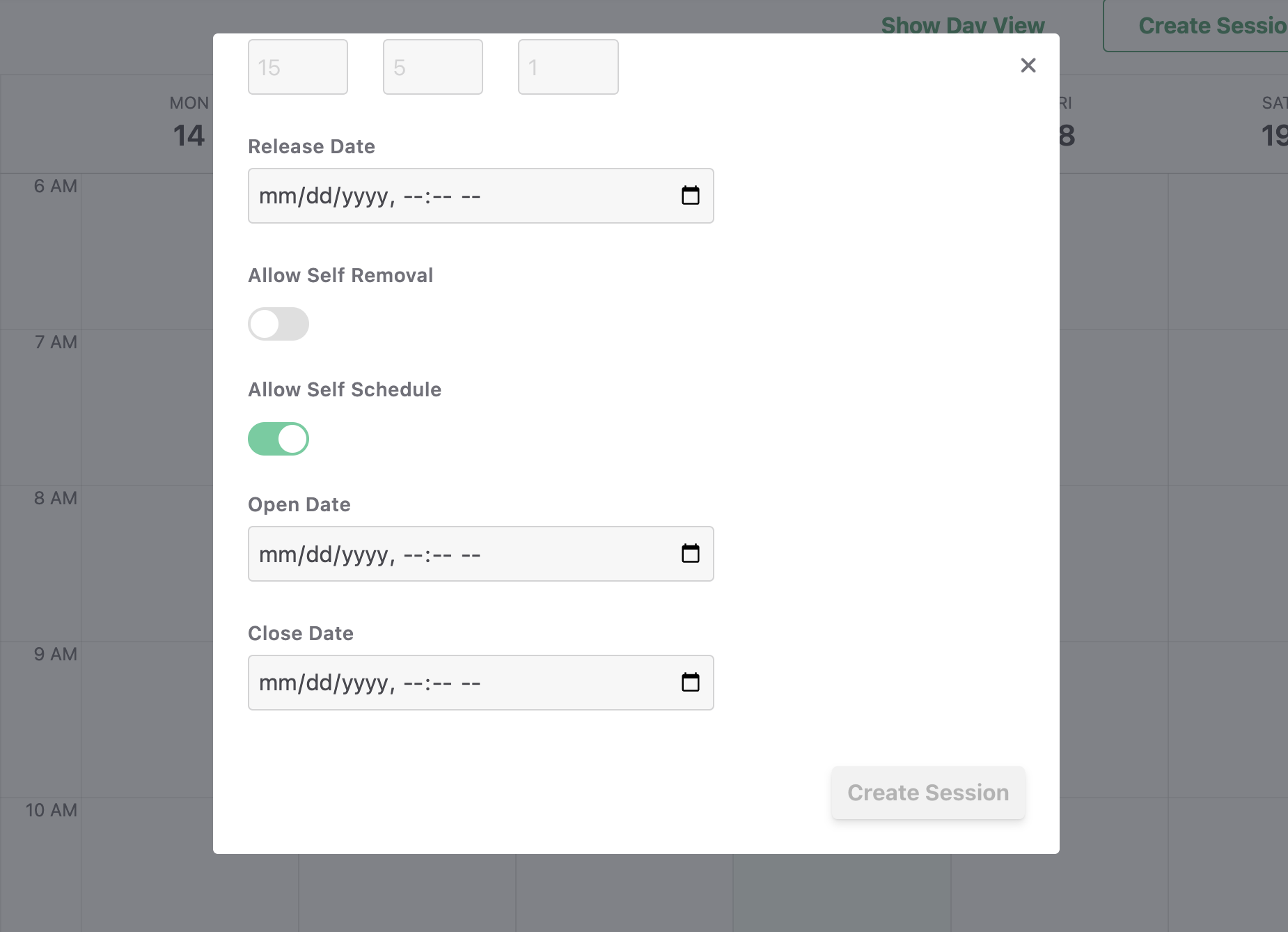 Allow Self-Removal: If enabled, it allows applicants to remove themselves from the schedule without approval from the organization.
Allow Self-Schedule: If enabled, applicants can choose their own timeslots without being assigned by the organization.
Open Date/Time: The date and time when applicants can start selecting their timeslots.
Close Date/Time: The date when applicants can no longer select their timeslots or make changes to their schedule.
IMPORTANT: If this is your first time using the schedule feature, we recommend getting in touch with the Account Relations team to assist you: accountrelations@getacceptd.com
Are you an administrator for an arts organization? Would you like to learn more about Acceptd's resources? Check out more at: Applications | AuditionRoom | Marketing