AuditionRoom is made up of Lobbies and Rooms which mirror the in-person experience virtually. Lobbies correspond with audition days and hold the Rooms where all the individual Sessions take place. Lobbies allow auditionees to review information about your organization, connect with ambassadors, organize for their audition, and join a Lobby Meeting Zoom call.
Rooms are where auditions, interviews, placement tests, etc. will take place. Each Room is associated with a different Zoom Meeting and includes a set of adjudicators.
Your job is to oversee the Zoom room and schedule for your Session.
On the day of the audition, login to Acceptd and navigate to the Schedule tab at the top left corner. Select the AuditionRoom dropdown option. Within the "Upcoming Rooms" section on the resulting page, find the lobby and corresponding session to which you are assigned as the Lead Adjudicator. Click Join Room in the bottom right corner of that session.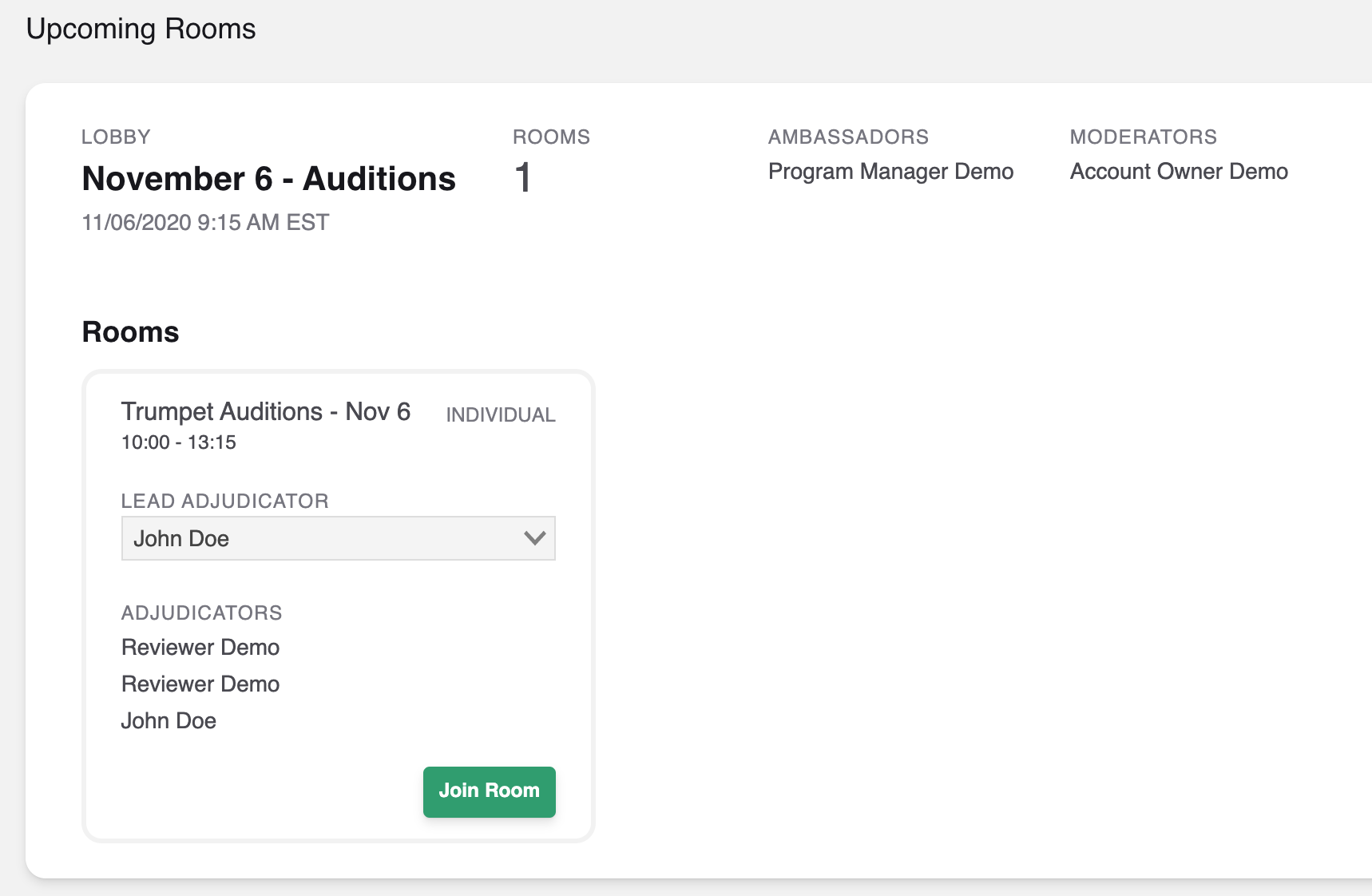 AuditionRoom will open in a new tab and you'll be presented with the schedule for the day. It's up to you to get everything ready before auditions or interviews begin.
If the lead adjudicator needs to change for any reason, you can select a new user from the dropdown. Keep in mind that you can only change the lead adjudicator to someone who is already an assigned adjudicator for that particular session.
Step 1 - Start Meeting: Click on Join Video as Host at the top of the clipboard. Doing so will create the Zoom meeting and allow other adjudicators to enter before the auditions begin.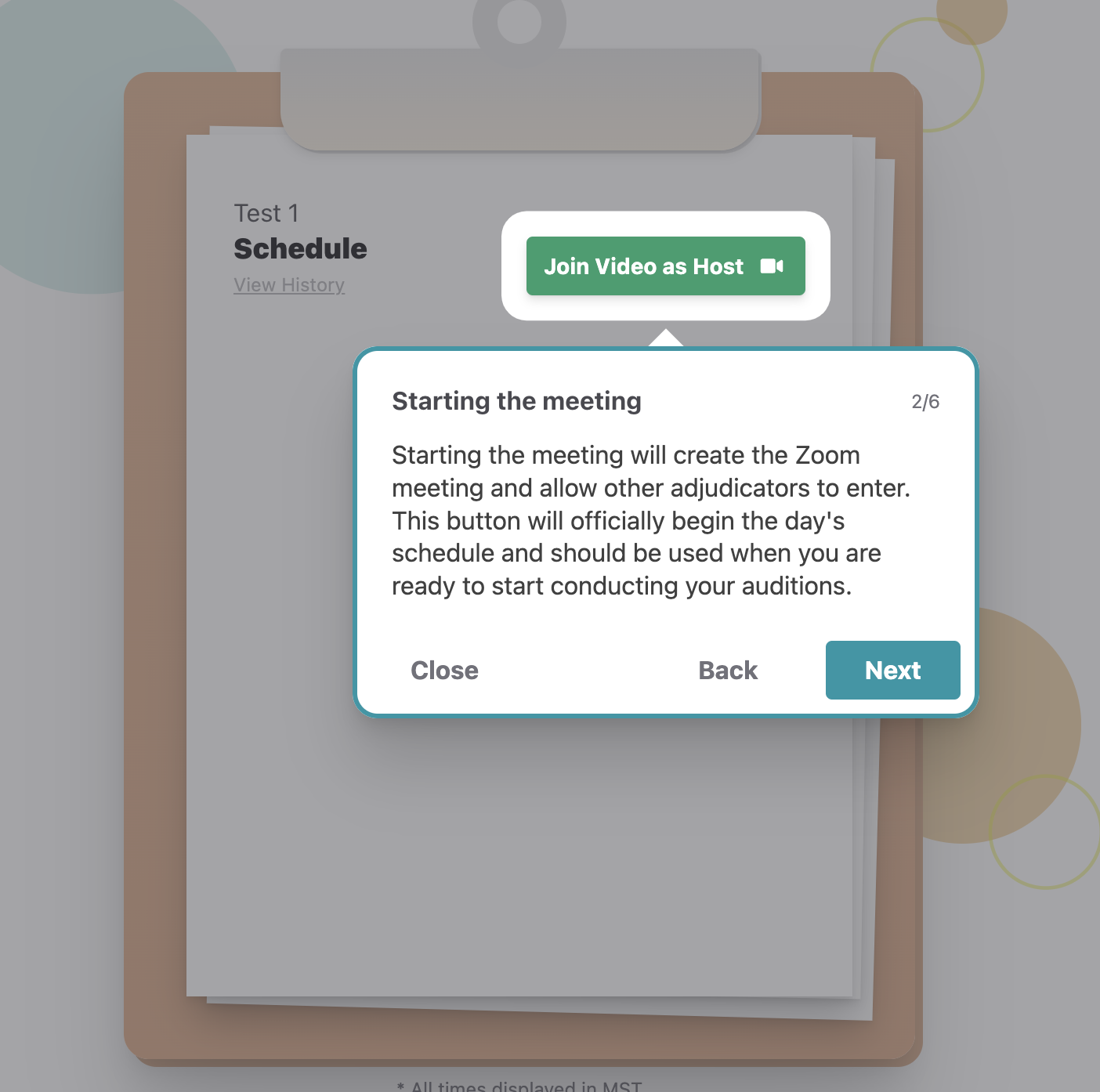 We highly recommend assigning co-host(s) for the meeting to help manage the waiting room and keep Zoom open IF you get disconnected.

Step 2 - Invite to Zoom: When you are ready to invite the applicant to the waiting room click on Invite to Zoom.
IMPORTANT! You must also admit the first auditionee from the Zoom Waiting Room when it's time for their audition.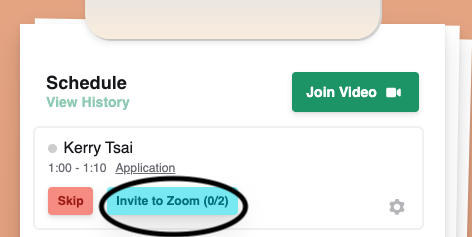 The applicant's status will show as online (a green dot next to their name) if they are logged in to their Acceptd account. If an applicant is not ready or available you can click the Skip button and move on to the next applicant. You can always go back and "unskip" them or change their timeslot by clicking on the gear icon.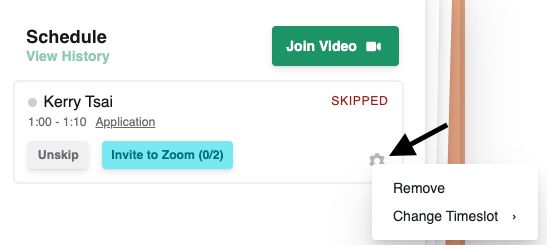 Step 3 - Mark Complete: When the applicant's audition or interview is finished click the Mark Complete button. If you need to reverse this action, you can mark them as not done.
Remember to invite the next applicant to the Zoom waiting room so they will be there and ready when it's time for their audition/interview.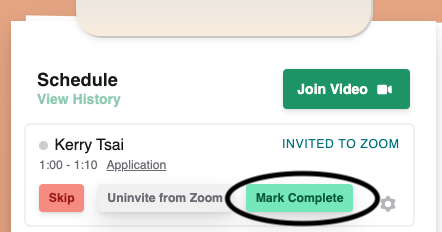 Are you an administrator for an arts organization? Would you like to learn more about Acceptd's resources? Check out more at: Applications | AuditionRoom | Marketing